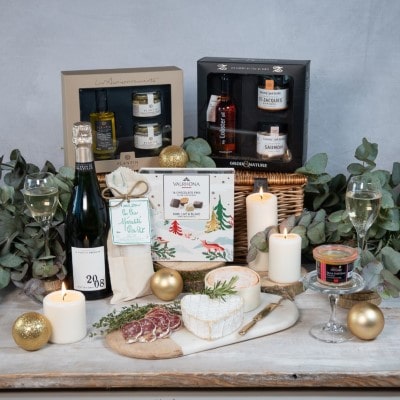 This hamper is filled with the most premium and artisan delights from different parts of France. Starting from the must have for the festive season premium Foie Gras to the best selection of Bordier cheeses and saucisson. Coming with the vintage Millesime 2008 Champagne. And to finish with the finest chocolate of France- Valrhona.
Hamper includes:
Groix & Nature Secrets De Lile De Groix Gift Box (290g)
Ernest Soulard Preserved Duck Foie Gras (50g)
Targe Saucisson with Green Peppercorns (280g)
Plantin Black Truffle Extra Virgin Olive Oil, Flavoured Mustard & Summer Truffle Sea Salt Gift Box
Bordier Coeur De Neufchatel Cheese (200g)
Bordier Baby Mont D'Or Vacherin (500g)
Valrhona Fine Dark Chocolates Gift Box of 16 (160g)
Valrhona Christmas Treats Pack (140g)
Le Brun de Neuville Millesime 2008 Champagne (750ml)
Presented in a beautiful wicker hamper it will make a beautiful gift to treat yourself or your loved ones!